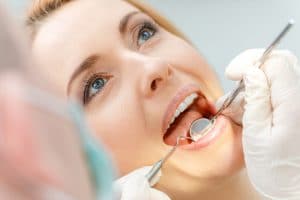 As we start the process of opening and returning to our normal treatments, we would like to look at the importance of a routine checkup and cleaning. These preventive visits help reduce the risk of issues like cavities and gum disease, and also fight bad breath and more! In today's blog, your Omaha, NE, dentist explains why you need a checkup and cleaning.
Examining Your Smile
A dental checkup is an opportunity for our team to assess the current state of your oral health. We examine your teeth, gums, roots, and oral structures with advanced technology. The exam allows us to also identify the earliest stages of poor oral health, such as the presence of a cavity, dental infection, or even gingivitis and gum disease. Our team next looks for warning signs of issues like TMJ disorder and bruxism (teeth grinding). Once a year, we also screen for oral cancer. The sooner we identify the warning signs of trouble, the sooner we can administer treatment to help protect your smile from worsening symptoms and potential complications. We suggest one for kids and adults alike!
Professional Cleanings
During the same visit, our team will use a manual tool and ultrasonic scaler to remove all plaque and tartar (calcified plaque) from the surfaces of the teeth. We then polish them thoroughly. The buildup forms as a result of bacteria breaking down food particles and creating a sticky bacterial byproduct, one that erodes tooth enamel and inflames gum tissues to lead to issues like cavities and periodontal disease. Not only do you avoid bad breath and teeth stains, but you also obtain a healthier and stronger smile in the process!
Keeping Teeth Healthy from Home
In between each visit, you also need to take proper care of your smile at home, which limits how much buildup can accumulate in between your checkup and cleaning appointments. People of all ages need to brush their teeth twice a day for two minutes and then floss before bed each night, as this removes the food particles that feed bacteria and lead to plaque accumulation. If you have any questions about maintaining heathy smiles from home, or if you would like to schedule a checkup and cleaning for you or a member of your family, then contact our team today.
Do You Have Questions About Preventive Dental Care?
We want to help you maintain your healthiest possible smile with general and preventive family dentistry. To learn more about removing plaque and protecting your smile, then schedule a consultation by calling Pacific Hills Dental in Omaha, NE, today at (402) 330-2243. We also serve the residents of Papillion, Elkhorn, La Vista, Millard, and all surrounding communities.