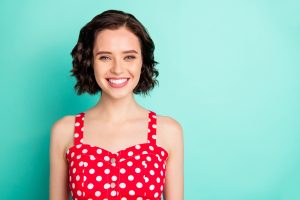 Do your teeth have stains on them? Are there small or noticeable patches of discoloration? Don't worry, this is actually a perfectly natural occurrence. Almost everyone experiences teeth staining over time. Teeth whitening treatment, performed through your dentist, can actually erase the staining that you're experiencing, giving you a whiter, brighter smile. If you've tried over-the-counter whitening products before with limited success, it's time to talk to your dentist about treatment options. Your dentist's treatments typically offer results beyond those of over-the-counter products. Here's how staining and whitening work.
What Causes the Staining on Your Teeth?
The most common form of teeth staining is called "extrinsic staining." This form of staining occurs when pigment particles become trapped in your outer layer of dental enamel. The foods you eat, the drinks you drink, and lifestyle habits like tobacco use, all cause your enamel to come into contact with pigment particles. Over time, that pigment becomes trapped in your enamel and causes the yellowing or discoloration you experience. To whiten your teeth and improve the appearance of your smile, you need to remove that pigment.
Teeth Whitening Treatment Bleaches the Pigment Particles
Teeth whitening treatments are all designed to bleach the pigment particles in your enamel and brighten your smile. By exposing your teeth to a bleaching agent for short intervals over time, you can remove much of the staining that you notice on your teeth. The difference in results that you experience often has to do with the quality of the bleaching agents. The bleaching agents used by your dentist are typically much stronger than those used in over-the-counter products, which may explain your frustration with these drugstore remedies.
Not All Staining Is Extrinsic
So, what would explain staining that won't go away, even after you receive whitening treatment through your dentist? In addition to extrinsic staining, there is also intrinsic staining, which occurs beneath the enamel, inside your tooth. This type of staining may be caused by an oral health condition, and it won't be reversed with whitening treatment. Instead, in these cases, your dentist may be able to use an alternative cosmetic dental treatment, like porcelain dental veneers, to correct for the staining.
ABOUT YOUR OMAHA, NE, DENTIST:
Dr. Cassandra Pietrok and Dr. Tom St. Germain of Pacific Hills Dental believe in ongoing education, and use advanced technology to provide you and your family with high-quality dental care. As a Master and a Fellow of the Academy of General Dentistry, they are uniquely qualified to provide you and your family with a full range of dental health treatments. To make an appointment for a cosmetic dentistry consultation, call our Omaha, NE, dental office today at (402)330-2243. We proudly treat patients in Omaha, NE, and all surrounding areas, including Papillion, Elkhorn, La Vista, and Millard.