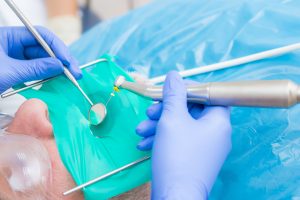 Tooth decay is a progressive condition. You won't feel the results of tooth decay right when it starts. Over time, tooth decay will work its way deep inside your tooth and cause serious harm. That's why preventive steps, like brushing and flossing, are so important. Severe cases of tooth decay require immediate treatment to stop the damage and save your tooth. If you have cavities, you should get them treated right away. If those cavities start to become painful, you may have a more serious form of tooth decay that requires endodontic treatment, like root canal therapy.
Severe Tooth Decay Moves Past the Surface
When you think about your teeth, you probably think about the surfaces. The crowns of your teeth are visible when you smile, but your teeth extend far beneath the surface of your gum line. This is where severe tooth decay travels to over time. A surface cavity can typically be treated by a dental filling. Your dentist will remove the harmful bacteria and fill in the hole left behind. Severe tooth decay that has reached beneath your enamel will require careful endodontic treatment.
Root Canal Therapy Can Save an Infected Tooth
Much like the process of placing a dental filling, before your dentist can heal your severe tooth decay, they will need to remove the harmful bacteria and infected pulp. Bacteria that have reached the root canals of your tooth can spread through these pathways to other oral tissues. Your dentist will need to carefully access your root canals to extract the bacteria from inside. Then, your dentist can fill and seal the canal to prevent further infection and preserve the roots of your tooth.
Seek Treatment Immediately for the Best Results
When you experience tooth pain, it could be temporary sensitivity or discomfort. If your tooth pain persists, however, it's often an indication that you have an infection of some kind. You should seek treatment immediately for this type of problem. Tooth infections will only get worse over time, so the longer you wait to receive treatment, the more severe the problem will become. Root canal therapy, when performed in time, can save your tooth and prevent the need for extraction. By preserving the roots of your tooth, your dentist can then use a dental crown to restore the damage.
ABOUT YOUR OMAHA, NE, DENTIST:
Dr. Cassandra Pietrok and Dr. Tom St. Germain of Pacific Hills Dental believe in ongoing education, and use advanced technology to provide you and your family with high-quality dental care. As a Master and a Fellow of the Academy of General Dentistry, they are uniquely qualified to provide you and your family with a full range of dental health treatments. To make an appointment for root canal therapy, call our Omaha, NE, dental office today at (402)330-2243. We proudly treat patients in Omaha, NE, and all surrounding areas, including Papillion, Elkhorn, La Vista, and Millard.