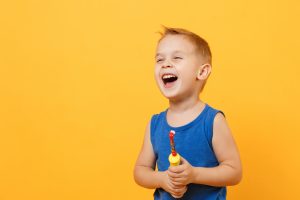 One of the best investments that you can make on behalf of your child is to focus on their health. You can take many different steps as a parent to set your child up with a healthy lifestyle. Emphasizing healthy dietary choices and exercise will improve your child's physical fitness. An often-overlooked area in which you can have a strong impact as a parent, is on your child's oral health care. By establishing positive oral hygiene habits and pursuing children's dentistry services, you can ensure that your child's teeth stay healthy and strong throughout their lifetime.
Children's Dentistry Starts at Home
Your child's oral health is largely in your hands for the first couple of years of their life. Your child will develop teeth well before they are able to adequately brush and clean them. You must be consistent and through when cleaning your child's teeth at home. Brush them twice a day, and introduce brushing techniques to your child when they are ready. Emphasizing the importance of oral health care will help these practices stick with your child as they mature and begin caring for their own teeth.
Make a Children's Dentist Appointment as Soon as Your Child's Teeth Erupt
You may not be sure when to start taking your child to the dentist's office. As soon as your child's first tooth erupts, it's time to start making visits. Your child (and everyone in your family) should see the dentist for a checkup and cleaning every six months. These visits allow your child's dentist to examine their teeth above and below the surface. Structural development and  cleanliness are important factors that determine the trajectory of your child's oral health. If a problem starts to develop, your child's dentist may address it with professional care.
Children's Dentistry Includes Preventive Care
In addition to checkups and cleanings, your child's dentist may also prescribe preventive care. Preventive care procedures can protect your child's teeth from bacterial buildup as they mature. Fluoride treatment is common for younger patients. Using a fluoride gel or rinse will remineralize your child's teeth and strengthen the surface enamel that protects from cavities. Additionally, your dentist may recommend dental sealants for your child's back teeth, which are more difficult to clean for younger patients.
Schedule Your Child's Dental Appointment at Pacific Hills
Dr. Cassandra Pietrok and Dr. Tom St. Germain of Pacific Hills Dental believe in ongoing education, and use advanced technology to provide you and your family with high-quality dental care. As a Master and a Fellow of the Academy of General Dentistry, they are uniquely qualified to provide you and your family with a full range of dental health treatments. To make an appointment for yourself or for a family member, call our Omaha, NE, dental office today at (402)330-2243. We proudly treat patients in Omaha, NE, and all surrounding areas, including Papillion, Elkhorn, La Vista, and Millard.