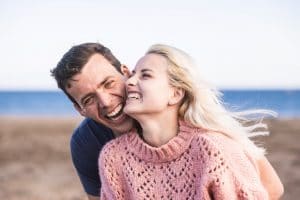 If you are an individual who has tried teeth whitening at home, only to be disappointed by the results, you're not alone. Over-the-counter whitening strips and charcoal toothpaste don't always deliver on the results. A lack of positive results may have caused you to feel frustrated and discouraged. That's understandable, but it doesn't mean that your teeth won't benefit from whitening treatment. Professional teeth whitening with your dentist frequently delivers results beyond what over-the-counter products can produce. You shouldn't be frustrated by your teeth whitening experience!
Why Your Teeth Become Stained in the First Place
Teeth staining causes the discoloration and yellowing that you may notice in your teeth. Staining is natural, and it happens to nearly everyone over time. That's because eating food, drinking drinks, and certain lifestyle habits cause staining. Doing these activities allows pigment particles to become trapped beneath the porous surface layer of your enamel. Over time, the pigment builds to produce staining and discoloration. To reduce staining, you can swish with water after eating and drinking, and brush between meals. You can also choose teeth whitening to remove the pigment.
Why Teeth Whitening with Your Dentist Isn't Frustrating
Teeth whitening treatment uses a bleaching agent to remove pigment from that layer of enamel and improve the appearance of your smile. When you put on a whitening strip, you're bonding a bleaching agent to your teeth for a period of time so that it can remove stains. That being said, the quality of the bleaching agent involved, matters. Your dentist has access to stronger bleaching agents that often deliver results that are much better than over-the-counter products. At-home whitening and in-office whitening treatments with your dentist may give you the results you desire.
If Professional Whitening Treatments Don't Work, Your Dentist Has More Options
Teeth whitening with your dentist reduces frustration because the product is better. Crucially, when you whiten with your dentist, you'll also have a professional helping you through the process: answering questions you may have and adjusting your treatment when necessary. If teeth whitening doesn't deliver the results you're after, your dentist has additional options, like dental veneers, to get the job done.
ABOUT YOUR OMAHA, NE, DENTIST:
Dr. Cassandra Pietrok and Dr. Tom St. Germain of Pacific Hills Dental believe in ongoing education, and use advanced technology to provide you and your family with high-quality dental care. As a Master and a Fellow of the Academy of General Dentistry, they are uniquely qualified to provide you and your family with a full range of dental health treatments. To make an appointment for yourself or for a family member, call our Omaha, NE, dental office today at (402)330-2243. We proudly treat patients in Omaha, NE, and all surrounding areas, including Papillion, Elkhorn, La Vista, and Millard.