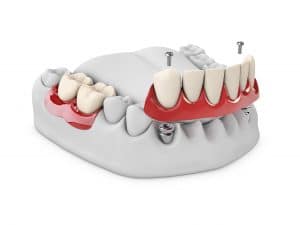 A dental implant does far more than just fill the gap in your smile caused by tooth loss. In fact, they can help preserve your facial structure and prevent an aged appearance from developing. In today's blog, your Omaha, NE, dentist will look at how we use lifelike dental implants to save your smile and restore smiles to full function and beauty again.
The Implant Difference
Traditional dental bridges usually rely on crowns attached to abutment teeth, and partials may need metal clasps or suction to stay in place.  However, dental implants are small screw-like devices made from biocompatible titanium. As a result, they bond with the jawbone tissue through a process known as osseointegration. The body accepts them as natural roots, and the resulting flow of nutrients to the jawbone prevents the loss of mass and density, which usually follows tooth loss. They then have the potential to last for decades to come, possibly a lifetime!
Crowns and Prosthetics
After we insert the dental implant, we create the restoration that addresses the visible portion of the tooth, providing a durable chewing surface that looks great and blends with the smile. For an individual implant post, we attach an abutment that will hold a crown in place. If you have lost several teeth, then abutments will be used to attach a prosthetic, such as bridge or partial/full denture. Patients then enjoy a full smile again, with a prosthetic that never slips when you eat and speak, and lasts longer than the ones held with clasps or suction.
Long-Term Care
To ensure they last for as long as possible, you need to maintain good oral hygiene. Better oral health means a lower risk of issues like infection or periodontitis, oral health problems that could lead to lost teeth and implant failure. You should brush and floss daily, avoid tobacco products and cut back on sugary foods and drinks. Make time to see our team for a checkup and cleaning too, so we can keep a close on your smile and ensure you enjoy optimal oral health, and a lifelike and long-lasting dental prosthetic. If you have any questions about implant dentistry, or tooth loss prevention, then please contact our team today. We want to help you enjoy a full and beautiful smile, one that inspires confidence!
Do You Have Questions About Implant Dentistry?
Our team knows how tooth loss impacts a smile, and hopes to restore smiles with strong and long-lasting dental implants. To learn more about our approach to implant dentistry, then schedule a consultation by calling Pacific Hills Dental in Omaha, NE, today at (402) 330-2243. We also serve the residents of Papillion, Elkhorn, La Vista, Millard, and all surrounding communities.