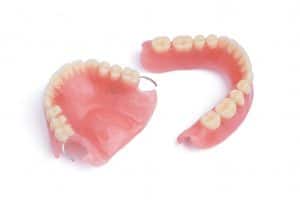 When you lose one to three teeth in a row, we may suggest a bridge or an individual dental implant. But what if you have multiple missing teeth, or lose a majority of them? You may actually need a denture, and we have several options, both removable and implant-secured. In today's blog, your Omaha, NE, dentist will look at which denture is right for you.
The Dangers of Missing Teeth
Losing your teeth could mean serious complications for your smile. Of course, the impact on your appearance is obvious, as gaps in your smile could cause major embarrassment. But severe tooth loss is also linked to an increased risk of TMJ disorder and bruxism due to strain on the jaw joints. Sufferers could also experience difficulty eating a variety of foods, and may have trouble speaking clearly. The loss of jawbone mass and density following tooth loss could also lead to an aged appearance too.
Removable Full and Partial Prosthetics
Removable dentures are a common means of addressing tooth loss, and tend to last about 5 to 10 years. They require replacement as your jaw ridge changes shape due to the loss of mass and density in the jawbone in the tissue as a result of missing teeth.
A partial contains an acrylic base that looks like gum tissues, and new teeth designed to blend with your smile. Metal clasps, invisible when your denture is in place, will attach to natural teeth to secure your new ones. A perfect solution if you have multiple missing teeth, but not enough to require a full denture.
If you're missing most or all of your teeth, then you need a full, which replaces every tooth on one or both arches. Again, the prosthetic contains an acrylic base, as well as new teeth. Suction or adhesives will hold the prosthetic in place, and both fulls and partials are designed based on detailed impressions taken of your smile, ensuring a comfortable fit.
Dental Implant Options
With dental implants, we insert a several biocompatible screw-like implants into the jawbone. They act as new tooth roots, stimulating the growth of bone tissue to prevent the loss of mass and density, so your new teeth can last much longer. We then attach the prosthetic to them. These options never slip when you eat or speak, last way longer than removable alternatives, and protect your overall facial structure too.
Are You Ready to Treat Your Tooth Loss?
When you lose several teeth, we have an array of options to return your smile to full function, health, and beauty once again. To learn more about solutions to minor or severe tooth loss, then schedule a consultation by calling Pacific Hills Dental in Omaha, NE, today at (402) 330-2243. We also serve the residents of Papillion, Elkhorn, La Vista, Millard, and all surrounding communities.