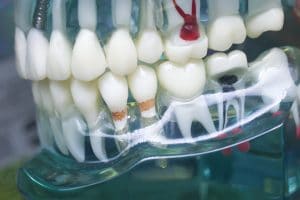 Did you know that a serious toothache that doesn't subside after a few hours could be a sign of an infection? Unless treated, your infection could lead to more than just pain in your tooth, you could lose the tooth altogether! Fortunately, your Omaha, NE, dentist knows how to treat infections with a safe and comfortable root canal procedure.
The Causes of Tooth Pain
Why does your tooth hurt? Well, pain and sensitivity could be caused by tooth decay, which occurs when the outer enamel is weakened due to plaque and poor oral hygiene, or damaged when a tooth sustains an injury. A cavity forms when bacteria reaches the inner dentin, but the tooth becomes infected once the cavity grows and exposes the inner pulp, your tooth's nerve center, to bacteria. At this point, treatment is crucial to avoid losing the tooth, or allowing infection to reach other teeth in your smile!
Don't Ignore Pain in Your Tooth
If you experience pain when you bite down or chew, swelling near your tooth or a discharge from it, or a persistent toothache, then you could have an infection that needs immediate attention. Schedule a visit so we can examine your smile and make a diagnosis. If we discover infected tissues, we can administer treatment to address the issue. Be sure you attend routine six months visits too, as these visits make it more likely we could identify an issue like this before you even experience discomfort! Instead of a root canal to stop an infection, we could prevent serious decay with a simple dental filling.
Root Canal Therapy
Despite the procedure's undeserved reputation, the treatment is safe and comfortable, often comparable to a filling. We start by administering a local anesthetic and then opening the tooth to access and remove the infected tissue from within. Next, we clean the interior of the tooth thoroughly and add a special restorative filling material known as gutta percha. The final step is to cap the tooth with a strong and lifelike dental crown. Afterward, a few positive changes to your routine could lower your risk of future infected teeth, such as a healthier diet, daily brushing and flossing, and six-month checkup and cleaning visits. If you have any questions, then feel free to contact our team today.
Do You Have Questions About Our Endodontic Treatments?
We want to help you continue to enjoy a healthy, and comfortable, and complete smile with our restorative treatments. To learn more about treating infected or abscessed teeth, then schedule a consultation by calling Pacific Hills Dental in Omaha, NE, today at (402) 330-2243. We also serve the residents of Papillion, Elkhorn, La Vista, Millard, and all surrounding communities.