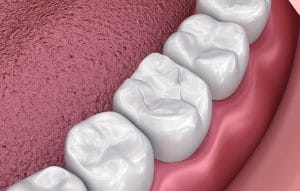 When a cavity forms, your tooth could begin to ache and unless you receive treatment, your tooth could develop a painful infection or abscess. Fortunately, your Omaha, NE, dentist has a treatment to address cavities and offer a lifelike appearance in the process. In today's blog, we're looking at the benefits of our tooth-colored resin fillings.
The Warning Signs of a Tooth Decay
How do you know if you have a cavity? Well, the warning signs often include tooth sensitivity and toothaches. While a tooth could ache as a result of sinus or allergy issues, or even changes in elevation, this discomfort is mild and passes quickly. Persistent pain or sensitivity often means a cavity has formed and is in the later stages, threatening the onset of infection. If you attend checkup and cleaning visits every six months, we likely identify them before your tooth hurts. Otherwise, you may not know you need treatment until your tooth is on the cusp of becoming infected to abscessed.
Composite Resin
The composite resin we use is metal-free, making it safe for patients of all ages. The material combines glass and acrylic for a strong restoration that can also be shaded to blend with the rest of the tooth seamlessly. After we remove decay and clean the tooth, we apply the prepared materials in several layers. As we cure the composite resin under a light, we sculpt and shape the tooth. The final step involves polishing it to ensure a more lifelike appearance. In just one visit, we treat the cavity and protect your smile from worsening discomfort!
Steps to Prevent Future Cavities
But what can you do to lower your risk of ever developing cavities in the first place? Well, start by caring for your teeth each day. Brush your teeth for two minutes with a fluoride toothpaste when you wake up and do it again before bed. At night you also need to floss up and down each side of every tooth to reach and remove what a toothbrush alone cannot. Cut back on the sugary foods and drinks that feed harmful bacteria, and make time to attend checkup and cleaning visits every six months too. If you have any questions about how we treat a cavity, or if you need a routine exam and cleaning to protect your smile, then contact our team today.
Do You Have Questions About Restorative Dentistry?
Our team offers a natural-looking means of treating cavities and preventing the onset of infections and painful symptoms. To learn more about treating cavities with a lifelike dental filling, then schedule a consultation by calling Pacific Hills Dental in Omaha, NE, today at (402) 330-2243. We also serve the residents of Papillion, Elkhorn, La Vista, Millard, and all surrounding communities.