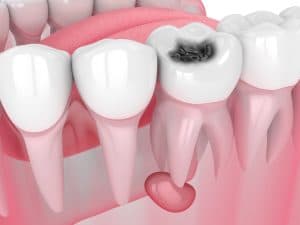 When you develop a cavity and your tooth begins to hurt, then you need to let us know. With emergency treatment options, your Omaha, NE, dentist can restore cavities and prevent the tooth from developing painful infections or becoming lost. But how do we treat a cavity, and how does one form in the first place?
How Does a Cavity Form?
The layer of enamel coating your teeth is designed to protect it from injury and issues like tooth decay and infection. Despite being the hardest substance in the human body, this layer could still weaken as a result of poor oral hygiene. When we don't brush and floss properly, and we eat diets high in sugar and starch, bacteria consumes the stray food particles and coat the teeth in plaque, a layer that weakens and erodes enamel. Bacteria then gain access to the inner portions of dentin, which are much more sensitive, leading to cavities. Unless treated quickly, this could eventually lead to infected or abscessed teeth, and in some cases, tooth loss.
The Warning Signs of Tooth Decay
If you begin to notice tooth sensitivity to hot or cold foods and drinks, or if a toothache has developed that doesn't pass after a few hours, then you likely have a cavity. However, once the tooth hurts, this means the cavity has reached a more advanced stage and the risk of infection is higher. Don't ignore the pain, let us know right away. We will schedule a visit to see you and address your concerns. When you visit, we will schedule your appointment to ensure you don't share the waiting room with others. Our entire team will also clean and disinfect surfaces in between each visit, and wash their hands. We're following strict health and safety measures to safeguard our patients!
Emergency Treatment
For a cavity, we may remove the decay and then clean the tooth. We apply a composite reins filling, which is metal-free and can be shaded to match the color of surrounding tooth structure. In one visit, we halt the decay and offer a lifelike restoration. If your tooth is infected, then we may use a root canal to remove the infected tissues, and then we'll fill the tooth with a restorative material before capping it using a lifelike crown, returning your smile to optimal health, function, and beauty.
Do You Have Questions About Safeguarding Your Smile?
We want to help smiles of all ages avoid the complications of untreated tooth decay, such as dental infections. To learn more about protecting teeth from tooth decay, then schedule a consultation by calling Pacific Hills Dental in Omaha, NE, today at (402) 330-2243. We also serve the residents of Papillion, Elkhorn, La Vista, Millard, and all surrounding communities.