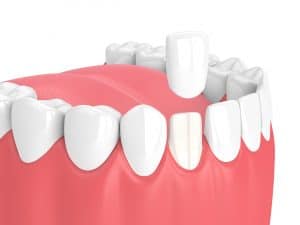 Smiles could develop a wide array of blemishes, which impact both the color and shape of your smile. However, that doesn't mean multiple procedures will be necessary to address them. With custom-made porcelain veneers, your Omaha, NE, dentist can correct blemishes and transform the smile's appearance in as little as two visits!
What Issues Will They Correct?
Since a porcelain veneer covers the front and sides of a tooth, this enables our team to address multiple restorative and cosmetic issues all at once. For example, a single placement could reshape a malformed tooth, repair minor chips or cracks, and even lengthen teeth worn-down due to teeth grinding or injury. We close embarrassing gaps between the teeth, too. Permanent teeth stains, also known as intrinsic discoloration, could be difficult to remove with teeth whitening. However, we can mask them right away. If you have minor misalignment, we can also correct the appearance of your uneven teeth in as little as two visits, no need for orthodontics in some cases!
Creating Your Thin Veneers
Each one is custom-made to ensure a lifelike appearance and a comfortable fit. We start by removing a thin layer of enamel from the tooth or teeth receiving your cosmetic restorations. Next, we use digital technology to gather detailed impressions and images, which give us to ability to custom-make one or more of the veneers.
Placing Them and Keeping Your Restorations Bright
Once we complete your restorations, you will return for a second visit. During this visit, we will check the fit and make any necessary adjustments to ensure optimal fit and appearance. Finally, we attach them with a powerful bonding agent, the same used to secure crowns, inlays, and onlays. Proper care then keeps them bright and protects the teeth we've attached your restorations to. We suggest brushing your teeth twice a day for two minutes each session, and flossing every night before bed. You should cut back on sugary foods and drinks too, which could feed harmful bacteria. Finally, make sure you're visiting our team every six months for a checkup and cleaning, which helps us keep an eye on your smile and address potential issues in the early stages. We also remove all plaque and tartar to ensure a brighter smile. If you have any questions, then contact our team today.
Do You Have Questions About Cosmetic Dental Care?
Our team wants to make sure you feel proud of your smile, which is why we offer cosmetic care. To learn more about smile transformation with lifelike porcelain veneers, then schedule a consultation by calling Pacific Hills Dental in Omaha, NE, today at (402) 330-2243. We also serve the residents of Papillion, Elkhorn, La Vista, Millard, and all surrounding communities.