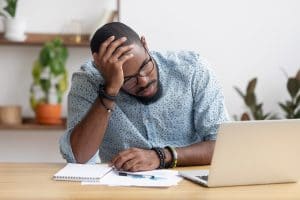 If you have high levels of stress, then you could become more likely to develop bruxism, an issue in which we frequently grind or clench our teeth. But how does stress lead to teeth grinding, and what steps can you take to protect your smile? In today's blog, your Omaha, NE, dentist is looking at how we address this issue, and what you should be doing from home to keep your smile healthy!
Anxiety and Bruxism
Chronic teeth grinding or clenching could be caused by several different factors, including tooth loss, bite imbalance, misalignment, untreated TMJ disorder, or an injury to your face or jaw. However, stress is a more common cause. With everything happening in the world right now, any of us are under increased stress levels and this could potentially put our smile at risk. Bruxism has been known to wear down tooth structure or even crack and chip teeth, which exposes the sensitive inner portions of dentin and the pulp itself, allowing cavities or even an infection to develop, threatening your smile's stability.
Common Warning Signs
People with bruxism tend to grind their teeth at night, so unless a significant other alerts them, they may not know they need treatment. However, there are symptoms that occur during the waking hours, such as headaches, migraines, jaw pain, facial and neck discomfort, and even tooth sensitivity and toothaches that don't pass after a few hours. If one or more of these potential symptoms occurs, call our team to talk about positive changes you could make from home for your smile. If you have damaged in your teeth, this qualifies as a dental emergency and we may be able to offer restorative treatments now, such as crowns or dental bonding.
Treatment Options
As we mentioned above, we can repair damage with emergency crown placement and other treatment options. However, once our doors open again, we can administer treatments designed to stop teeth grinding and protect your teeth from further injury. An oral appliance is worn at night and custom-made specifically for your smile, repositioning the jaw joints to ease strain and placing a barrier between your upper and lower sets of teeth to avoid damage. You can also help from home by avoiding caffeinated products and hard or chewy foods. Try to limit your stress levels too! Exercise, breathing, and setting a schedule to maintain a routine have all been shown to help.
Do You Have Questions About Caring for Your Smile?
Our team understands that caring for your smile from home is paramount for avoiding serious complications. To learn more about better homecare habits, then schedule a consultation by calling Pacific Hills Dental in Omaha, NE, today at (402) 330-2243. We also serve the residents of Papillion, Elkhorn, La Vista, Millard, and all surrounding communities.