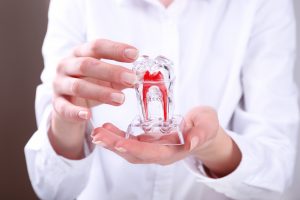 Just a few years ago, hearing the dentist say you needed a crown mean looking forward to two or more visits, as well as a brief period of wearing a temporary restoration. However, we offer our Omaha, NE, patients the chance to receive a dental crown in the same visit. How do we create and place them in one visit? What happens during the CEREC process?
The CEREC System
The CEREC system employs CAD/CAM technology to create a restoration in a single visit. We begin with preparation, removing a small amount of tooth structure. We then take detailed impressions of your smile using digital imaging technology. The images enable the dentist to create a detailed 3D model of your tooth and design the restoration. We upload the information into the CEREC milling machine. The machine then creates the restoration from ceramic. We use ceramic because the material is not only strong and durable, but also mimics the appearance of natural tooth enamel. Finally, we place the completed crown in the same visit!
When Do We Prescribe Them?
We often use them to repair teeth with infections or advanced cases of tooth decay. They also lengthen worn down teeth and repair cracks and chips. Placement helps address issues with a tooth's shape and color as well. For those with missing teeth, we may use them anchor a dental bridge in place or provide a natural looking restoration for a single tooth dental implant.
How Do You Maintain One?
Following treatment, routine care will help your new crown stay bright and strong, offering decades of restoration. You should brush your teeth twice a day and floss each night before going to bed. We also suggest a cleaning every six months to remove plaque and tartar. Routine care helps protect smiles form plaque buildup, a major factor in the onset of tooth decay, infection, and gum disease. Remember to see us if you experience any discomfort in your smile, such as tooth sensitivity or a persistent toothache, or if a tooth becomes damaged. With our same day crowns, we can restore your smile to optimal health, function, and beauty. If you have any questions or concerns, please let us know. We want to work with you and help you enjoy a healthy smile!
Pacific Hills Dental Creates Restorations in One Sitting
At Pacific Hills Dental, we use advanced technology to create a custom-made dental restoration in just one visit. Talk to our team about our lifelike dental restorations today. To make an appointment for yourself or for a family member, call our Omaha, NE, dental office today at (402)330-2243. We proudly treat individuals in Omaha, NE, and all of the surrounding areas, including Papillion, Elkhorn, La Vista, and Millard.