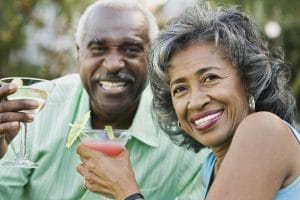 Tooth loss can cause its share of problems in your day-to-day life. After all, a gap in your smile can affect how you feel about your appearance, leaving you with feelings of discomfort. You could also find it difficult to bite and chew different foods, particularly if you have lost several teeth. It should be noted that there are problems created by tooth loss that can impair your long-term oral health, and lower your quality of life. If you want to find a way to restore your smile that can help improve your daily life, and your long-term health, ask your dentist about dental implants. With implants supporting your restoration, you can enjoy great functional and cosmetic improvements.
Impaired Dental Function Can Affect Your Diet, And Your Quality Of Life
It can be harder to enjoy certain foods when you have missing teeth. If those restrictions to your diet are significant, you could find yourself lacking nutritional support. This can interfere with your long-term health, and your quality of life. If your tooth loss is not significant enough to restrict your diet, it can still cause problems by interfering with how you bite and chew. Over time, this can lead to jaw strain, and TMJ dysfunction.
Why Tooth Loss Poses Problems For Your Jawbone
Unfortunately, jawbone deterioration is frequently an issue for patients who suffer tooth loss. As time passes, absences can mean a lack of stimulation in your jawbone, which can lead to insufficient blood flow. While a prosthetic by itself is not capable of stimulating your jawbone, implants can do this effectively. Patients with implant-supported restorations are able to preserve their jawbone mass, which means enjoying better oral health.
Pacific Hills Dental Can Help You Avoid Problems Caused By Tooth Loss
At Pacific Hills Dental, you can look forward to excellent prosthetic support when you have an implant-supported restoration. Our practice is proud to make modern restorative care available to our patients. To make an appointment for yourself or for a family member, call our Omaha, NE, dental office today at (402)330-2243. We proudly treat patients in Omaha, NE, and all surrounding areas, including Papillion, Elkhorn, La Vista, and Millard.