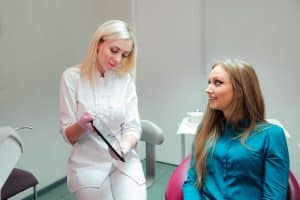 If you want to straighten your teeth, but feel uneasy about conspicuous braces, you may be excited to try Invisalign. However, before you can start treatment through this orthodontic care, your dentist will need to perform a preliminary examination. If you qualify, your dentist can move forward with designing your custom Invisalign treatment. Over the course of your care, you will use a sequence of removable aligners, all of which are made from clear plastic, so they will be difficult to see. At the end of treatment, you can enjoy a set of straightened teeth.
Making Sure You Qualify For Treatment Using Invisalign
Not every patient who needs an orthodontic adjustment will be able to use Invisalign. If your adjustment needs are more dramatic, conventional braces may be necessary to your successful treatment. That being said, those who do qualify can enjoy a treatment that is less intrusive, and considerably harder to see, than traditional bracket and wire braces.
What Kind Of Benefits Can I Expect From Straightened Teeth?
The benefit many people think of when they think about orthodontic treatment is an improved smile. This is certainly an attractive benefit, but it is not the only one. Patients who correct their teeth can make it easier to stay free of cavities, thanks to the correction of overlaps that create risks for tooth decay. You can also correct issues with a poorly aligned bite. Bite problems can lead to TMJ dysfunction, which can cause pain, making jaw movements more difficult, and even lead to issues with bruxism.
Talk To Pacific Hills Dental About Invisalign
At Pacific Hills Dental, you can receive orthodontic care through Invisalign treatment. Invisalign offers patients a means of correcting their crooked teeth with less impact on their appearance. Because the aligners are removable, they can also be less intrusive, making it more comfortable to eat, and clean your teeth. To schedule an appointment for yourself or for a family member, call our Omaha, NE, dental office today at (402)330-2243. We are proud to treat patients in Omaha, NE, and all surrounding areas, including Papillion, Elkhorn, La Vista, and Millard.