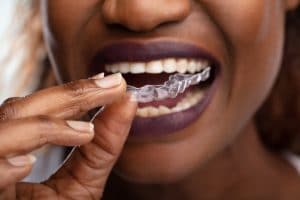 The shape, color, size, and orientation of your teeth can all affect the appearance of your smile. You can influence some of these factors with your daily habits, while some of these factors seem out of your control. You may be surprised by what a small change to any one of these factors can do to the overall appearance of your smile. Cosmetic dental treatments allow you to make these small adjustments to create an ideal smile. Clear aligners in particular allow you to straighten your teeth, creating a more even, balanced appearance for your smile. Here's what clear aligners can do for your smile.
Clear Aligners Straighten and Align Your Teeth
Your dentist will recommend clear or invisible aligners to straighten and align your teeth. Invisible aligners can do some of the work that braces do for younger patients. They cannot correct for serious structural issues, but they can align your teeth to give you a more even bite and a more photogenic smile. Over time, clear aligners gently push and pull your teeth into alignment. You'll trade out your aligner for a new set every couple of weeks during treatment until your teeth have moved into their proper position.
Clear Aligners Can Make Your Teeth Easier to Clean
Most people focus on the cosmetic effects that clear aligners create. While a beautiful smile is one of the great benefits of using invisible aligners, they also provide functional benefits. Straighter teeth are easier to clean. You can better reach the surfaces of each tooth when they are not overlapping with one another. Food particles also become less likely to get stuck between teeth when your teeth are straightened. An aligned bite also reduces unnecessary wear on your teeth and preserves them for the future.
Clear Aligners Provide a Better Experience Than Braces
For serious structural issues, traditional braces may be necessary. However, for adult patients, clear aligners provide a better experience for simple cases of misalignment. You can remove your clear aligners to clean your teeth and the aligners themselves, something you cannot do with braces. Since clear aligners are not bonded to your teeth, you also reduce your risk for surface damage to the enamel of your natural teeth. Finally, clear aligners are also more discreet than braces, a quality you will appreciate on a daily basis.
ABOUT YOUR OMAHA, NE, DENTIST:
Dr. Cassandra Pietrok and Dr. Tom St. Germain of Pacific Hills Dental believe in ongoing education, and use advanced technology to provide you and your family with high-quality dental care. As a Master and a Fellow of the Academy of General Dentistry, they are uniquely qualified to provide you and your family with a full range of dental health treatments. To make an appointment for yourself or for a family member, call our Omaha, NE, dental office today at (402)330-2243. We proudly treat patients in Omaha, NE, and all surrounding areas, including Papillion, Elkhorn, La Vista, and Millard.