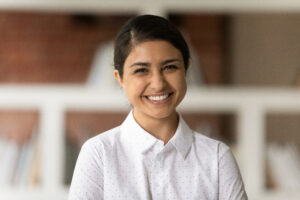 Tooth enamel is a remarkably strong substance, but unfortunately, it is not so strong that we never have to worry about dental damage. A small chip can be made after an unlucky bite, or wear and tear can gradually lead to more noticeable damage. Any time a chip or other type of harm affects a tooth, it can become a serious concern for your smile. Fortunately, there is something that your Omaha, NE dentist can do about this matter. Through the placement of porcelain veneers, we can take on issues with chipping while minimizing changes to your tooth structure.
Chipped And Cracked Enamel Can Be A Source Of Embarrassment
If you reveal any chipped or cracked teeth when you smile, you can feel unhappy with your appearance. This problem may make a person so uncomfortable with how they look that they go out of their way to avoid smiling in photos and social settings. A person who never talks to their dentist about this problem can remain self-conscious; if the damages are more severe than they realize, they can end up experiencing more serious issues over time! Fortunately, it is often possible for us to resolve problems with conservative cosmetic restorations like porcelain veneers.
Using Porcelain Veneers To Take Care Of Problems With Your Smile
By capping your teeth with porcelain veneers, we can hide problems with damage, and we can also make corrections to teeth that are misshapen, discolored, or otherwise flawed. These restorations cover the front surfaces of teeth but leave the remaining structure alone. They are placed after careful planning to make sure they are the right shape and size, and after work takes place to make space for them. While their slim design minimizes the preparatory work that we ultimately have to do, you can be happy to learn that your veneers are strong enough to maintain their appearance for many years after they are placed.
What Can I Do About Dental Damage That Affects My Bite Function?
If your dental damage is so serious that it forces you to change how you bite and chew, you can find that you need more protection than a veneer offers. The good news is that there is still something we can do to restore your smile as well as your oral health. A custom crown that matches your enamel can have cosmetic and functional benefits, which can be important when injuries to enamel occur.
Talk To Your Omaha, NE Dentist About Treating Chipped Teeth
If you have a chipped tooth, or several chipped teeth, treatment at our practice can help! To find out more about how the placement of veneers can hide chips, cracks, and other flaws, please contact your Omaha, NE, dentist, Dr. Pietrok, by calling (402) 330-2243.