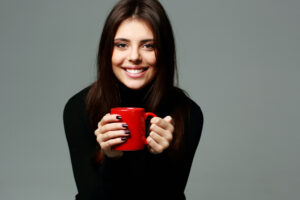 If you have concerns about teeth stains that you have picked up over time, it can be hard to show off your smile with the confidence that you want to project. This problem can transition from frustrating to concerning when you try to remove stains with store-bought products and fail to see your desired improvements. Are you simply stuck with teeth that are less attractive? At our Omaha, NE dentist's office, we can recommend that you rely on a professional teeth whitening treatment to fight this problem. We can offer you a choice between a single-visit office treatment to fight discoloration or a personalized kit that you can use at home. With both options, you can see more significant overall improvements and enjoy a welcome boost in your confidence!
How Do You Currently Feel About Your Smile?
If you are someone who feels embarrassed by your teeth stains, it can be hard to feel comfortable with how you look when you smile. Avoiding stains by making smarter diet choices can help, but you still have to worry about those that you have already picked up. While there are products available at grocery stores and other shops that can offer some improvements, they can lack the potency to address deeper stains that have formed. With the help of a professional teeth whitening treatment, you can see more dramatic changes, and that can dramatically change how you feel about your appearance.
Planning Your Teeth Whitening Treatment
You can plan on an in-office teeth whitening treatment that delivers results in just one appointment, or you can request a personalized treatment kit that you can use at home. These options both provide exciting overall improvements, as they rely on advanced bleaching agents to safely fight tough stains. The take-home kit can be a more convenient option for many, as it lets them control when they perform their daily treatments. Typically, a patient who opts for this approach can have their results in around ten days. However, if you want your results as soon as possible, it can be a good idea to ask about in-office care, which is able to deliver changes in over an hour.
There are some patients who can actually require something other than teeth whitening treatment to take care of their discoloration. This is the case when you have trouble with intrinsic discoloration, a problem within your tooth structure that hurts how you look. With other cosmetic dental procedures, we can cover this problem and give you back your confidence in your appearance.
Talk To Your Omaha, NE Dentist About Teeth Whitening Treatment
By taking care of dental discoloration with your dentist's help, you can see the kind of meaningful improvements that truly lifts your confidence in the way you look. Remember that we can offer help with more than just teeth stains, as we provide a number of cosmetic services that can have real value. If you are ready to find out more, please contact your Omaha, NE, dentist, Dr. Pietrok, by calling (402) 330-2243.