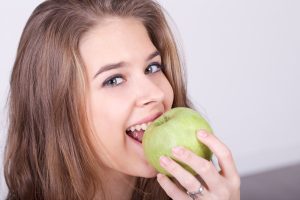 Enjoying a nice meal will be difficult when you have a persistent problem with bite pain. Jaw stiffness, discomfort, and sensitivity can make biting and chewing difficult when you have unresolved issues with TMJ disorder. You can find yourself struggling with facial pain, headaches, and neck and shoulder discomfort as well if this problem is not being managed. At our Omaha, NE dentist's office, we can confirm that TMJ disorder is the reason for your pain and stiffness. From there, we can determine what we can do to help. We can also look out for problems with bruxism, of teeth grinding, which can contribute to your discomfort and cause worrying enamel damage.
Pain And Stiffness When You Bite And Chew? Let Us Know!
If pain and stiffness are a regular issue for you when you try to enjoy meals and snacks, you should be concerned about your oral health. If you experience this issue, if discomfort makes it harder to laugh and speak, or if you have a tendency to grind your teeth at night, it can point to problems with TMJ disorder and bruxism. TMJ problems occur whenever you have unresolved problems that affect your joint movement and alignment, or when you have trouble with tension that affects your joints and muscles. Bruxism refers to a tendency to grind your teeth at night. These issue can be linked, as either one can cause the other. Fortunately, these are issues that we can discuss during a regular dental checkup, or during an appointment you set to voice your concerns about discomfort.
Addressing Discomfort That Is Linked To TMJ Disorder
We can work with you to resolve problems with pain, stiffness, and general limitations to your jaw movement. If you are not biting and chewing in a way that feels natural because you have a problem with poor dental health, we may need to proceed with restorative dental work to help. We can also create a custom oral appliance that you can wear to readjust your jaw and improve your bite movement.
Using A Custom Guard To Protect Your Smile Against Nightly Grinding And Clenching
Protecting your smile against nightly teeth grinding and clenching will be important. Without timely intervention, you can do serious damage to your enamel that changes your appearance and affects your oral health. Patients who already have problems with this can discuss cosmetic or restorative services.
Talk To Your Omaha, NE Dentist About Your Bite Troubles
Poor bite movement, persistent jaw pain, and teeth grinding are all reasons for concern. At Pacific Hills Dental, we can help individuals take on these concerns so that they have fewer issues with pain, and so that they no longer put them at risk for further oral health issues. To find out more, call our Omaha, NE, dental office today at (402)330-2243.