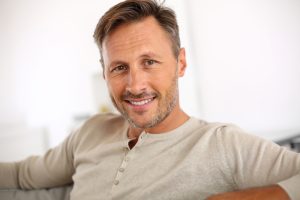 Smile flaws are not always related to oral health concerns. Your teeth, while healthy, may be affected by embarrassing discoloration, by visible wear and tear that ages them, or even by naturally occurring problems with their shape or size. Our Omaha, NE dentist's office is here to support those who lack confidence in the way they look. Through the right cosmetic procedure, we can help you fix issues that have long left you uncomfortable with your smile. The right procedure can actually take on more than you expect, making a dramatic smile makeover surprisingly accessible.
Are You Tired Of Feeling Self-Conscious About The Way You Look?
If you lack confidence in your smile, you may find it hard to project confidence in important social and professional situations. You can feel less attractive, and you can have understandable concerns that your teeth negatively affect how you are perceived. Your oral health is important, but we understand that cosmetic concerns can also be serious. With the right cosmetic dental procedure, we can take care of your negative feelings by targeting the issues that have encouraged you to keep your smile hidden.
What Treatment Options Are Available To You?
We provide several treatment options. Depending on your concerns, we can explore the advantages of different services to help you make all of your desired improvements. For people who want to make big changes, we can recommend porcelain veneers. While veneers only cover portions of teeth, they can hide all visible issues that someone has with the way they look. For you, that can mean covering damage, improving the color of your smile, and even hiding problems with spacing. These shells are custom-made so that we can make sure they look natural, and so that we can confirm they will make the right improvements. Typically, this work can be completed in just two appointments. We also provide more conservative treatment options, like teeth whitening treatment, as well as tooth bonding and contouring services.
How Can I Preserve My Smile Improvements?
Preserving your improved smile can be an obvious priority after you undergo cosmetic dental work. Veneers are made with a strong porcelain material that can be easy to preserve over the years. Of course, you should make preventive care a priority to preserve your appearance after any cosmetic treatment. We can provide guidance after your procedure, and we can offer support during subsequent dental checkups.
Talk To Your Omaha, NE Dentist About Treatment Options That Can Address Smile Flaws
Pacific Hills Dental provides different cosmetic services to patients who wish they could make changes to their appearance. The right treatment can have a significant impact on the way you look, and you can have an easier time preserving your improvements than you expect! To find out more, call our Omaha, NE, dental office today at (402)330-2243.