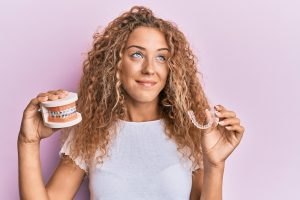 If you're an adult who has reservations about orthodontic treatment, you're not alone. Having braces can be a lackluster experience for teenagers, so to revisit this period of time as an adult may not be a top priority for you. If you've got misaligned teeth though, you don't want to deal with a crooked smile for the rest of your life. Everyone deserves to have a smile that they love. Invisible aligners offer a solution for a straighter smile without the hassle of braces. Are braces a must for your smile? It's time to learn more about your options.
Invisible Aligners Offer Straightening for Minor Misalignment Cases
Invisible aligners can be worn and removed easily when needed. The clear, plastic aligner is discreet, so you won't be broadcasting to the world that you're undergoing orthodontic treatment. This treatment option is ideal for more minor cases of tooth misalignment. The aligners will gently pull your teeth into proper alignment over time. In some cases, you may only need six months of treatment to see a marked improvement in the appearance of your smile. Because you can remove the aligner, you'll have an easier time keeping the aligner clean and keeping your teeth clean. This treatment method is also much more comfortable than traditional braces.
Invisible Aligners Offer Functional Benefits for Your Smile
Everyone wants to have a straight, beautiful smile. While this is a major benefit of using invisible aligners, the treatment method also comes with some functional benefits. A straighter smile is easier to clean. When your teeth overlap, or when there are significant gaps between teeth, it can create breeding grounds for the bacteria that cause cavities and gingivitis. Straighter teeth are healthier teeth, and they look great too.
Serious Cases of Misalignment Require Braces
Not every malocclusion case can be handled with an invisible aligner. In serious cases, you will likely need braces. Braces can do more to adjust the structure of your teeth to create a beautiful smile and an even bite. If your dentist or orthodontist recommends braces, you should follow up on this type of treatment. A misaligned bite can lead to premature wear on your teeth. Braces may be less comfortable and come with a longer treatment timetable, but they can deliver serious results that help preserve your teeth.
ABOUT YOUR OMAHA, NE, DENTIST:
Dr. Cassandra Pietrok and Dr. Tom St. Germain of Pacific Hills Dental believe in ongoing education, and use advanced technology to provide you and your family with high-quality dental care. As a Master and a Fellow of the Academy of General Dentistry, they are uniquely qualified to provide you and your family with a full range of dental health treatments. To make an appointment for an aligner consultation at Pacific Hills Dental, call our Omaha, NE, dental office today at (402)330-2243. We proudly treat patients in Omaha, NE, and all surrounding areas, including Papillion, Elkhorn, La Vista, and Millard.