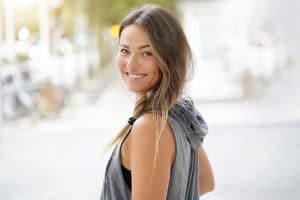 Cosmetic dental treatments can correct a variety of imperfections and improve the appearance of your smile. You deserve to have a smile that you love. A bright, beautiful smile can increase your confidence and comfort in social situations. Does cosmetic dental treatment have to radically alter the structure of your teeth? Conservative cosmetic dental treatment makes minor adjustments to your natural teeth. This allows you to retain the strength, stability and health of your teeth through cosmetic treatment. Dental bonding and contouring is a great conservative cosmetic option.
Dental Bonding and Contouring Make Small Adjustments to Your Enamel
Dental bonding and contouring provide a great, conservative cosmetic treatment for your smile, because they don't require major adjustments to your teeth. Bonding and contouring simply shape your dental enamel to create a more idyllic smile. Dental bonding utilizes tooth-colored dental resin to add volume and shape. Dental contouring uses a precise instrument to shape your existing enamel to create a more symmetrical smile. By retaining your natural tooth structure through cosmetic treatment, you keep your teeth healthy for the future.
Bonding and Contouring Can Address Different Smile Issues
You may be surprised by how much ground a conservative cosmetic treatment can cover. Dental bonding and contouring can make a number of small adjustments that, all together, create a totally new appearance for your smile. Dental bonding can add volume to a tooth that is noticeably smaller than others. It can also fill in awkward grooves or gaps between teeth. Dental contouring can smooth jagged edges. It can also shape an abnormally large or long tooth so that it blends in with the rest of your smile.
Make Sure Your Teeth Are Healthy Enough for Cosmetic Treatment
You can only retain your healthy teeth if you have them initially. Cosmetic treatment may improve the appearance of your teeth, but it will not correct damaged or infected teeth. You should make sure that your teeth are healthy before receiving cosmetic treatment. If you have cavities or gingivitis, your dentist will want to treat these issues before moving forward with cosmetic treatment. Brush your teeth twice per day and floss nightly to reduce your risk for cavities, and preserve your beautiful teeth for the future!
Schedule Cosmetic Treatment with Your Omaha, NE Dentist
Dr. Cassandra Pietrok and Dr. Tom St. Germain of Pacific Hills Dental believe in ongoing education, and use advanced technology to provide you and your family with high-quality dental care. As a Master and a Fellow of the Academy of General Dentistry, they are uniquely qualified to provide you and your family with a full range of dental health treatments. To make an appointment for yourself or for a family member, call our Omaha, NE, dental office today at (402)330-2243. We proudly treat patients in Omaha, NE, and all surrounding areas, including Papillion, Elkhorn, La Vista, and Millard.