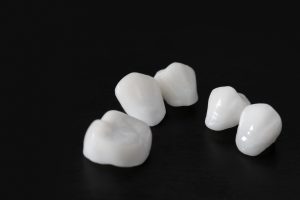 When you face an emergency situation, such as an infected tooth or one that is cracked or chipped, then you may need a restoration. To limit time in the office and help address your issue, we can create and place a crown in only one visit! In today's blog, your Omaha, NE, dentist is talking about the benefits of CEREC crowns.
Treating Emergency Situations
When a tooth is cracked or broken, even if the damage appears to minor and more cosmetic than anything, this could still expose the sensitive inner structures to bacteria, leading to decay and even serious infections! We consider damage, as well as persistent pain in a tooth, to be dental emergency situations that need attention. Rinse with warm water, stem any bleeding with gauze or a washcloth, and use a cold compress or ice pack to reduce swelling. Take a pain reliever, and then contact our office. We will examine your smile to see if you need treatment.
Crafting Your Restoration
If we find you have advanced decay, an infection, or a cracked or broken tooth, then we will often place a natural-looking crown. With CEREC technology, we use a unique CAD/CAM system to design and place one in a single sitting, limiting your time in our office and out and about. We start by removing structure from your tooth and taking detailed digital impressions. We combine the digital images we gathered to create a 3D model, then we design your restoration. We upload the information into an onsite milling machine, which creates a crown from ceramic, a strong and durable material that can be shaded to match the color of surrounding teeth.
Placement and Maintenance
After we create your crown, we check the fit and make any necessary adjustments. Finally, we place it using a powerful bonding agent. When you visit our office, we will take steps to ensure your health and safety, such as scheduling appointments to ensure you're not sharing the waiting room with others, and also thoroughly cleaning and disinfecting surfaces throughout the office in between each and every visit. At home, our routine brushing and flossing habits help keep your restoration strong, and protect other teeth from issues like tooth decay or dental infection. If you have any questions or concerns, then please contact our team today.
Do You Have Questions About Repairing Smiles?
Our team wants to help you enjoy your healthiest smile, even if you're stuck at home! To learn more about our approach to restorative care and emergency dentistry, then schedule a consultation by calling Pacific Hills Dental in Omaha, NE, today at (402) 330-2243. We also serve the residents of Papillion, Elkhorn, La Vista, Millard, and all surrounding communities.